Raymond Loewy - Occasion Car Engineering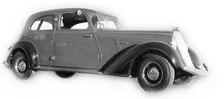 In 1930 the opportunity to put his dream of automobile design into action was close. The Hupp Motor Car Corporation suffered from bad turnovers and a revolutionary, extremely progressive car-design seemed a good means to master the crisis. Thus the economic situation helped to entrust rather unknown Loewy to design a new generation of Hupmobiles.
The design of the 1932 Hupmobile striked an aesthetic concept which expressed plainness and simplicity. Exceedingly smooth and even forms suggested quickness as well as movement.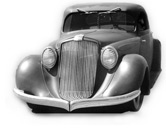 It is worth mentioning that among pure product design Loewys often cited integral approach could also express itself properly. It was not a matter of looking at a product individually, but rather seeing it in coherence to a whole qualitative design. This is why he also cared about the adequate presentation of the prospectuses, a manual easy to understand up to the letterhead of the company paper.
The concept of the two years later appeared 1934th model was extended by simplicity and aesthetics along with additional functional aspects. An integrated reserve wheel reduced air resistance and especially big rear windows provided an optimum view. Beyond it, a curved, very elegant rear completed the total concept.